Website Design © Canadagrain.com 2023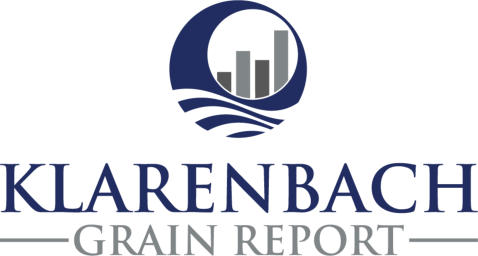 Durum Wheat Alert
(Emailed to subscribers on January 15, 2022)
By now, readers are aware that several of my sell signals were triggered this week. With these recent
events, it is time to update my Durum Wheat Analysis.
Readers will remember my December 6 Durum Wheat Analysis where I identified my first sell signal:
A lower low below 607 is a sell signal and would be a logical time to take full or partial profits.
The sell signal has not been triggered as we are still in the $730/tonne level.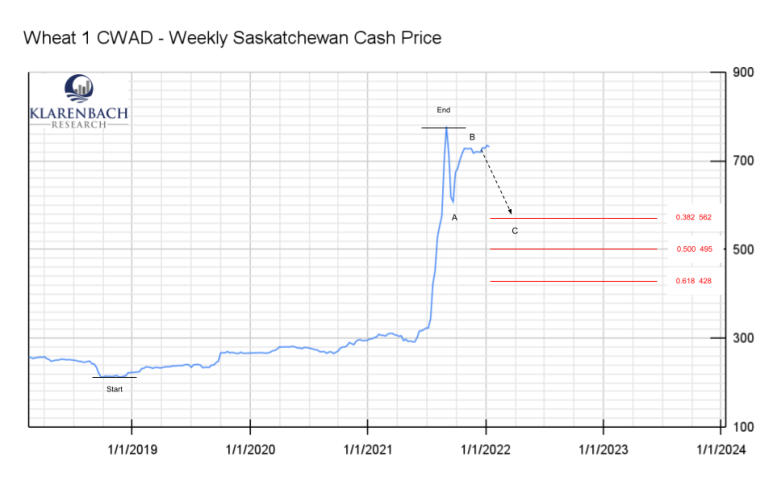 I will drill down to the Daily chart, preferring to analyze trend alignment across multiple times.
Basically, I want the short-term trend to move in the same direction as the longer-term trend increasing
the probability of the price continuing in the direction of the prevailing trend.
When the trend is not aligned, we recognize the uncertainty of the market and exercise caution.
The short-term trend often but not always forecasts a change in the direction of the longer trend.
The following chart is the 1 CWAD Wheat SW SK Daily average price chart in bushels.
The above chart shows Friday's closing price below the declining 50 Day Moving Average (DMA).
The 10 DMA is crossing beneath the 20 Day, indicating a downtrend on the shorter timeframes.
While a close below the 50 DMA often triggers a sell signal, I am allowing this a little more time to play
out.
My first sell signal is a Daily close below the recent low of 19.60.
If this happens, a declining 10 DMA should be below a declining 20 DMA, which will be below a declining
50 DMA, adding conviction to a trend change thesis.
You can track my 1 CWAD Analysis on my website here.
The purpose of this newsletter is to provide advance notice of trend changes in addition to support and
resistance levels, allowing the reader to anticipate future price action.
Think Wayne Gretzky, skating to where the puck is going.
That is our mission
Nothing written, expressed, or implied here should be looked at as investment advice or an
admonition to buy, sell, or trade any security or financial instrument. As always, do your own diligence.
The
Klarenbach Grain Report

presents our technical analysis of the grains markets, including
corn, soybeans, wheat, canola, oats, flax and currencies identifying interest levels and entry and
exit ideas.
Newsletters are emailed on an as-needed basis as the price approaches levels requiring
attention.
Monthly and yearly subscriptions are available.
Created October 21, 2022; Last Updated January 6, 2023
Special Offer: Subscribe to both reports and save 25%
for $1,575 per year (GST included). This represents a 25% saving from their separate annual cost.